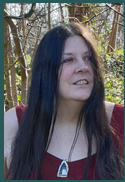 Jaq D Hawkins built her writing career in traditional publishing writing in the Mind, Body, Spirit category, then started releasing Fantasy Fiction in 2005. The publishing industry was starting to go through radical changes at the time and in 2011, Jaq took her fiction to the indie market.
The Goblin Trilogy grew from one book into a trilogy, yet even though the series is complete, short stories to expand the world of the goblins continue to be added to the collection. Additional novels may surface over time.
Meanwhile, the Steampunk world created in
The Wake of the Dragon
is also soon to be continued in two new releases due in 2019 and 2020. A more bizarre story,
The Chase For Choronzon
, is also due out this year. The story follows the adventures of a pair of reincarnated magicians through time and space to capture the demon Choronzon who is supposed to guard the gate between the worlds.
Please sign up for our
mailing list
to hear about new releases, special promotions and new
games
as they are added to the website.